Why the DST Was Created for Times Like These with Brett Swarts
What if you can't or don't want to use a 1031 Exchange? In this episode, Brett Swarts, Capital Gains Tax Deferral Expert, sheds light on the importance of the Deferred Sales Trust (DST) in today's challenging times. With his extensive knowledge and expertise, Brett explains why the DST was specifically designed to address the unique needs of high net worth individuals seeking to preserve and grow their wealth while navigating complex tax regulations.
As the Founder of Capital Gains Tax Solutions and an exclusive Deferred Sales Trust Trustee, Brett has helped countless millionaire clients unlock the power of the DST to transform their exit wealth plans. Through this engaging discussion, he reveals the secrets to breaking free from capital gains tax jail, offering valuable insights into the strategic use of DSTs, Delaware Statutory Trusts, and 1031 exchanges.
With over $500,000,000 in closed commercial real estate brokerage and Deferred Sales Trust transactions under his belt, Brett's experience is unparalleled. As a licensed California Real Estate Broker and an eXp Commercial Multifamily Broker, he combines his in-depth industry knowledge with a passion for educating others on capital gains tax deferral strategies.
Don't miss this opportunity to discover another tool to unlock your financial freedom.
Listen to the podcast here:
CONNECTING WITH THE GUEST
I hope you found this episode valuable. I have one more thing to give you. We have a page for my coaching clients where you can get a free copy of my book and much more from previous guests on the show. Check out NextLevelIncome.com/coaching to get a free copy of my book, audiobook, and much more. I'll send you a copy of my book and cover all the shipping costs as a thank you for listening to the show. Also, please like, share, and take 90 seconds to give us a rating on Apple Podcasts.
Important Links: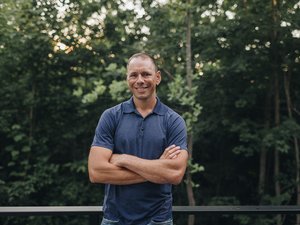 Christopher Larsen is the founder and Managing Partner of Next-Level Income. Since "retiring" after 18 years in the medical device industry he dedicates his time to helping others become financially independent through education and investment opportunities. Chris has been investing in and managing real estate for over 20 years.
While completing his degree in Biomechanical Engineering and M.B.A. in Finance at Virginia Tech, he bought his first single-family rental at age 21. Chris expanded into development, private-lending, buying distressed debt as well as commercial office, and ultimately syndicating multifamily properties. He began syndicating deals in 2016 and has been actively involved in over $500M of real estate acquisitions.
In addition to real estate, Chris has invested in equities, oil & gas, and small business lending, as well as being active in Venture South, one of the nation's Top 10 Angel Investing groups. Chris lives with his wife and two boys (and Viszla, Lucy!) in Asheville, NC where he loves spending time with them in the outdoors and enjoying the food and culture that the region has to offer.
Love the show? Subscribe, rate, review, and share!
Join the Next- Level Income Show Community today:
Follow Us On Social Media: