Expert Tax Secrets with Brett Swarts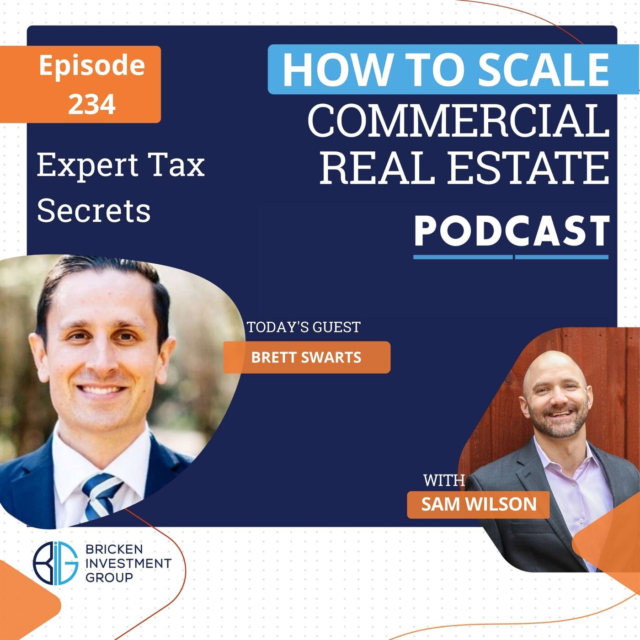 Know the secrets of the Tax Expert.  In today's episode, we're going to dive into them!  Brett Stewarts is a Deferred Sales Trust Expert, Capital Gains Tax Deferral Expert, Investment Real Estate Expert, Multi-family Broker and the Founder of Capital Gains Tax Solutions– a company helping individuals to defer capital gains tax on the sale of their highly-appreciated assets, eliminate the need for a 1031 exchange, and deliver a transformational wealth plan to create and preserve more wealth.
[00:01] – [05:40] Opening Segment
Let's get to know today's guest, Brett Stewarts
Commercial Real Estate Game Changers
[05:41] – [21:19] Expert Tax Secrets
Stepped-Up Basis for Beginners
Using Deferred Sales Trust vs 1031 Exchange
Brett shares a crushing story
Cash to Fund the Trust
[21:20] – [27:38] Deferred Sales Trust
Multiple Assets in Deferred Sales Trusts
Brett talks about the process of using a single trust
Why You Should Use the Deferred Sales Trust
How to Raise Funds Using a Deferred Sales Trust
[27:39] – [31:15] Final Four Segment
Brett's advice to aspiring investors

"Learn to work harder on yourself than you do on your job."

How Brett stays on top of his game
Brett's way to make the world a better place

Supporting Agape International Missions

Reach out to our guest – see links below
Final words
Resources Mentioned
Tweetable Quotes
"Sell high, buy low." – Brett Swarts
"Deferred Sales Trust is preferred for so many reasons. " – Brett Swarts
"Hiring the who and not being the how." – Brett Swarts
—————————————————————————–
Connect with Brett Swarts through: brett@capitalgainstaxsolutions.com and LinkedIn.  Check out his website https://capitalgainstaxsolutions.com/, https://www.experttaxsecrets.com/, and their Podcast and grow your business as a tax expert!
Connect with Sam Wilson:
I love helping others place money outside of traditional investments that both diversify a strategy and provide solid predictable returns.
Like, subscribe, and leave us a review on Apple Podcasts, Spotify, Google Podcasts, or whatever platform you listen on.
Thank you for tuning in!